Low density, slimline frames are compatible with virtually all property types from a design perspective, and are built with the strength to stand up to the worst of the British weather. The stripped-back frames bring the extensive glass range to life, filling rooms with plenty of natural light. Select from any of our expansive colours and finishes to add your own unique style to your new windows. Luxury has never been this affordable.
The low density, slimline frames will give your home a contemporary look, without compromising on strength and performance.
Eclipse Aluminium windows provide a glorious, uninterrupted view of the outdoors and as well as performance, that's often what matters the most when we think of windows.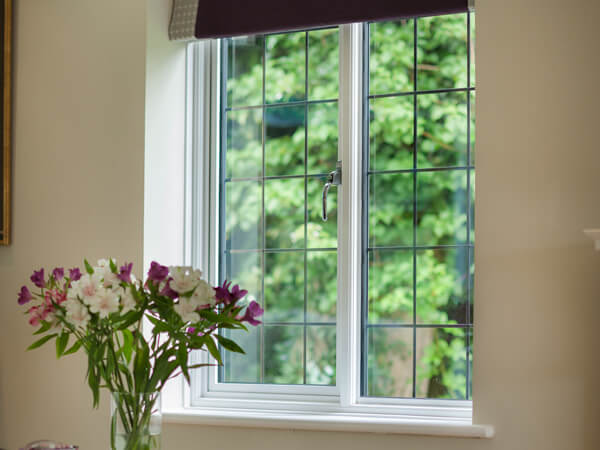 Eclipse Aluminium Windows
Your windows need to perform just as well as they look. Our Eclipse Aluminium Windows possess many exceptional benefits.
Explore each one of our hotspots opposite to gain an insight into the unique features of these popular windows.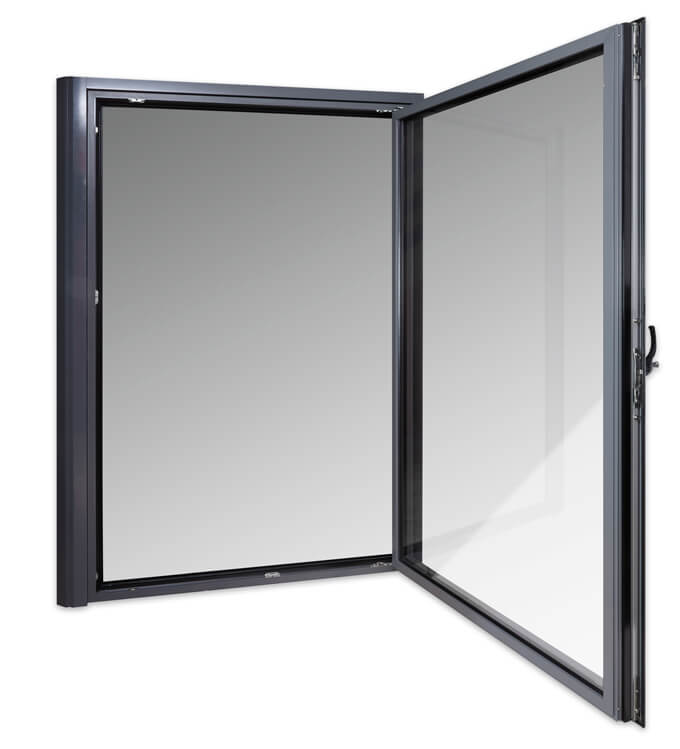 Eclipse Hinge
Our highly engineered hinge provides increased load bearing and features unique anti-crowbar technology, providing a lifetime of protection and reassurance. With 90 degree opening and Egress easy clean as standard, window maintenance has never been so simple.
Eclipse Glass
High performance, next generation glass offers excellent energy efficiency. With an ultra-clear outer pane, and a super soft coat inner pane as standard.
Eclipse Frame
A true declaration of style. Our low density, slimline frames are perfect for a clean, modern appearance, but are also built with the strength to withstand even the harshest of weather conditions.
Eclipse Locking
The sophisticated multi-point lock within the Envisage system ensures the window is fully secure when locked. Featuring our patented 'Secure It' mechanism, the window was tested over 30,000 times during the development stage.
Eclipse Weather Seal
Dual density and high elasticity for twice the coverage of standard windows. The Eclipse flush casement range boasts long lasting airtight protection from the elements and added noise reduction.
Get the most out of your outdoor view
Our Eclipse Aluminium Window comprises a high percentage of glass compared with the slim aluminium frames, so you can look forward to an unobstructed view of the outdoors.
Maximising the glass in your windows will ensure your rooms are always light and welcoming.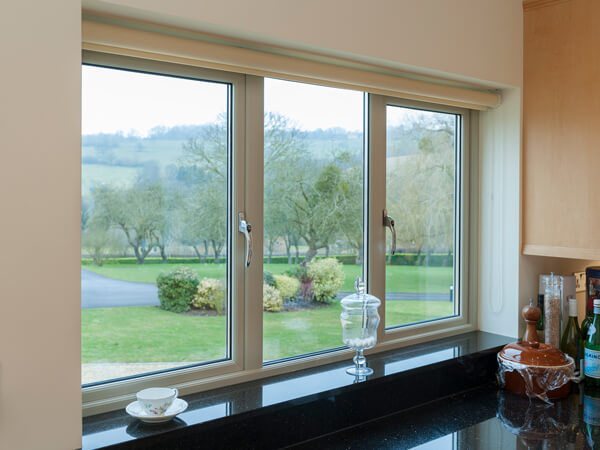 YOU HAVE FULL CONTROL OF THE DESIGN
Tell us how you want your new windows to look and we'll go out of our way to find something that's perfectly in keeping with your preferences. Whether you want to make your windows stand out, or opt for something more traditional, we'll ensure your new windows look right at home.
Express yourself with colour…
Our broad range of rich, vibrant colours can truly take your windows to the next level and transform the overall aesthetic of your home. Whether it's subtle, understated shades you crave, or bold and brash statement colours, our extensive powder coating process ensures your colour will remain bright and vibrant throughout the lifespan of your window.
We've taken the signature choices from our standard colour palette and plunged them into this exclusive range. Recognising the needs of homeowners, we've ensured that we can match your windows to whichever RAL colour you'd prefer.
Glass and frames, perfectly in sync…
To match our extensive range of window styles, we've created an equally impressive selection of contemporary glazing. We don't expect our customers to be glazing experts, that's why our team of experts are on hand to guide them through the whole process. Whether it's double or even triple glazed aluminium windows that tickle your fancy, there's a configuration to suit virtually every home.
Multi-point locking systems strengthen the entire range...
Our handles and accessories span across a vast chasm of styles and designs, from the uber-modern to the tastefully traditional, there's something to complement every existing décor. All, of course, crafted with the same expert precision as the windows upon which they sit.
Accessories will make or break the look and feel of your windows. With a broad range of colours and finishes to choose from, there's absolutely something to perfectly complete your look.
REQUEST YOUR FREE QUOTE
Simply fill in your details for your free, no obligation quotation, and click "Get Quote"
Buying windows from West Yorkshire Windows will be totally stress-free.
Windows form a hugely important part of the overall aesthetic of your home. Thankfully, our team are on hand ensure that the impression they leave is a lasting one. Our dedicated team are aluminium window experts and will be able to guide you through the whole process, helping you select the right option for your home. Buying new windows has never been this easy.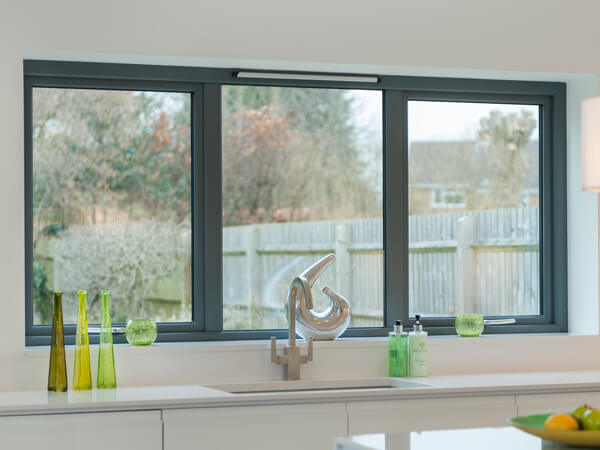 We prioritise functionality. Your windows need to perform just as well as they look. Thankfully, at your nearest West Yorkshire Windows showroom, you'll find a robust range of stylish windows that you can open from the side or top, vertically slide or tilt and turn.
All our aluminium windows are crafted using only the highest-grade materials, ensuring they're built to perform consistently over time. The effort and hard work that goes into creating our entire window range is why we feel confident giving our customers the luxury of such lengthy cover.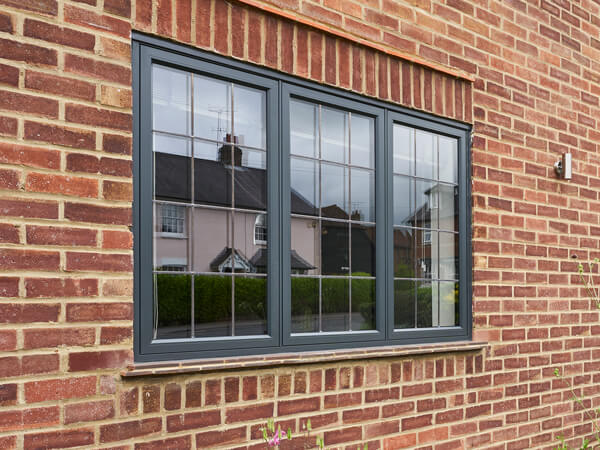 NEED MORE INSPIRATION? REQUEST A BROCHURE
Simply select the brochure(s) you would like to browse, fill in your details, and then click 'Download'.
Step 1 - Please select the brochure(s) you would like:
OUR FINANCE CALCULATOR
See how affordable your home improvement can be with our Finance Calculator.
DISCOVER MORE ABOUT OUR ALUMINIUM WINDOWS
Our replacement aluminium windows are perfect for any home in Yorkshire. If you'd like to know more about our replacement windows and their benefits, we've answered some of the most common questions below. If you have any other questions our team will be happy to help, book a design appointment online or visit our showroom to see our aluminium windows for yourself.
How durable are aluminium windows?
Our Eclipse aluminium windows are amongst the strongest in the industry.
Eclipse aluminium windows have many attributes and one of the biggest of them is their strength – very few alternative systems can compete with Eclipse in a strength test! Amazingly robust and durable, they include a stunning powder-coated finish, resistant to corrosion and knocks.
Timber windows easily succumb to the weather and tend to rot as they get older, but Eclipse aluminium windows always come out on top against the elements, with a coloured finish that can comfortably combat rain exposure. The aluminium frame also won't swell, wrap, or crack as temperatures fluctuate.
No gradual fading of the powder-coated finish will occur and that includes if the windows are exposed to direct sunlight for prolonged spells. It will keep looking as good as new, removing any need for repainting.
What are the energy-efficient features of these aluminium windows?
As energy efficient as you could possibly want.
Traditional aluminium window systems fall well short of delivering modern thermal standards, but the Eclipse range surpasses them by a significant distance to help you make huge long-term energy savings.
Two components in an Eclipse aluminium window curb heat loss so that homes never get too cold, and you don't have to overuse your boiler. One of them is the thermal break within the design, and the other is our high performance, next generation glass. For airtight protection against the weather, a dual density weatherseal is also fitted into the product.
Added to all this, Eclipse aluminium windows from West Yorkshire Windows have an impressively low U-value and impressively high energy rating.
How much maintenance do aluminium windows need? Are they easy to clean?
Maintenance of an aluminium window is an easy job.
You have more important things to be doing than frequently attending to window maintenance, so you will be happy to know that aluminium windows need minimal upkeep.
Take off any hand jewellery before you clean the glazed surface of the window so that you don't accidentally scratch it, using a mix of soap and water to remove any dirt and grime. A soft cloth and household glass cleaner will restore a shine to the glazing. Avoid applying too much pressure as you clean the glass if the window contains Georgian bars or leaded lights so that they don't become dislodged.
Clean the aluminium window frames every 3 months with soap and water, and half-yearly, cleanse the external frame with a non-abrasive proprietary cleaner.
Please, watch yourself when cleaning the windows whilst they're open so that you don't get your hands caught in any of the hardware's sharp corners or edges.
After they've been cleaned with the soap/water solution, use the soft cloth to buff the window handles up.
Once a year, apply oil or light grease to the lock and keeps so that they don't stick, and add a thin film of grease to the hinges, which will ensure they continue moving smoothly.
What security features and locking mechanisms are available for aluminium windows?
For us, security is always what matters most.
Feeling safe inside your house is fundamental to a happy home life, as we acknowledge in the designing of our Eclipse aluminium windows, made to protect properties to the maximum degree.
They have so many secure components within their construction, the sturdy aluminium frame being one of them, complemented with a multi-point lock, solid glazing, and a host of concealed secure mechanisms, including some invisible locking cylinders.
Subjected to relentless, demanding tests during their development, you can have complete confidence in Eclipse windows defending your private space from outside interference.
How can I customise the appearance of aluminium windows to match the style of my home? Can I choose different options for the inside and outside?
Personalise the Eclipse range so that it mirrors your property's image.
You have full licence from us to tailor Eclipse aluminium windows so that they seamlessly complement the other architectural features of your home – long gone are the days when you got what you were given with aluminium windows.
Just let your advisor know what size, shape, colour etc. you want them to be, and of any preferred accessories, and they will create the custom windows in front of you on our hi-tech software.
The colour options for Eclipse aluminium windows are immense and you can have a colour-contrast by selecting a dual-colour finish, with opposing colours on the external and internal sides of the frames.
Want some add-ons for your Eclipse windows? How about including Georgian bars to have them mimic traditional Georgian windows for a classy extra touch of detailing.
A material as flexible as aluminium opens up such a wealth of possibilities.
How effective are aluminium windows at reducing noise from outside?
Aluminium windows can usher in a reduction in noise.
The world is a noisy place, and your home should be a peaceful sanctuary from it. Not so if you have old, single glazed windows and live close to a busy road, railway network, or reside in a rowdy residential area.
Aluminium windows from our Eclipse collection have noise-reducing capabilities and it is largely the glass in them that can repel any din from the outdoors.
The best soundproofing measure you can take is to ask for Eclipse windows to come in triple glazed units. Crucially, the three glass panes will have varying thicknesses as this is essential to effectively break down sound waves.
Are aluminium windows environmentally friendly?
Aluminium passes the sustainability test.
Much is said about the toughness of aluminium and its impressive thermal properties, but in this era of climate change, people want to know if the material is eco-friendly. Without any hesitation, we can tell you that aluminium does excel in energy efficiency.
It's an endlessly recyclable material and recycling it only uses 5% of the energy it takes to produce the metal. During the recycling process, it retains its original strength and quality, no matter how many times it goes through this, enduring for a lifetime. Any subsequent upgrading of your windows, following on from having Eclipse windows installed, will be years and years away, saving you money and putting on the brakes on any overconsumption.
Your energy consumption will be significantly lowered as aluminium windows do an amazing job of retaining heat and restricting cold air from entering homes, improving the planet's health by cutting greenhouse gas emissions.
Do I need planning permission for aluminium windows?
Planning permission isn't necessary for most aluminium window installations.
Generally, you can commence with the installation of Eclipse aluminium windows without having to obtain planning approval from your local authority first if they are largely in keeping with your existing designs. The term used for this is 'permitted development rights', entitling you to automatically proceed with the fitting of new replacements.
Rules are more restrictive for window upgrades in conservation areas. The aluminium windows you choose have to accurately emulate the appearance of your current windows, fully detailed in the submitted planning application. Some homes in conservation areas also have an Article 4 direction imposed on them, limiting what enhancements you can make to them without obtaining planning approval.
Aluminium window installations at Listed Buildings always require a planning application.
West Yorkshire Windows will be happy to help with the organising of the paperwork needed to be forward on to your planning committee.
Want to speak with an Advisor? Give us a call on 01924 881920
Our friendly team will be pleased to help with any questions you may have.